Finding new and exciting things to do with your dog can be hard. Especially when cold weather rolls around! It's our job to entertain our pets before boredom sets in. But with so many varying personalities, it's hard to find a one-size-fits-all activity that will please every dog. Read on to find a list of fun activities for dogs in cold weather!
Hide & Seek
Activity Level: Low
This fun game can be enjoyed by all ages and breeds of dogs! And there's a few ways to play this classic game with your pet.
Variation 1: hide treats around the house and help your dog find them. For food driven and younger dogs who are able to crouch down and jump up to retrieve the treat, this option works well.
Find some homemade treat recipes here: 5 Healthy Dog Treat Recipes
Variation 2: Another, less active, option is to buy a hide and seek toy. This is especially beneficial for dogs who like squeaky toys or who have limited mobility.
Play in the Snow
Activity Level: High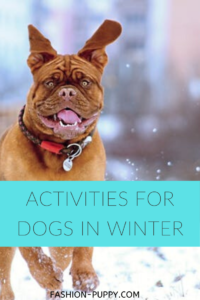 There are so many fun activities to do in the snow! Sledding, making snowballs, and fetch are just a few fun ways to enjoy the snow with your dog.
These outdoor activities may be better suited for large dogs who won't succumb to frostbite as quickly as smaller dogs.
And if you don't have snow, try showing your dog how to jump in a pile of leaves!
Indoor Toys
Activity Level: Medium-High
Aside from the standard squeaky toys and dog balls, there are LOADS of unique dog toys created for extended – and sometimes rough – entertainment.
A great example of self-entertaining toys is this tug toy from BarkMoreStore.com is great for small and large dogs who love to tug!
Some more interactive dog toys include this Wobble Wag Giggle dog toy from Chewy.com. The Wobble Wag Giggle toy is a ball that makes fun giggling noises and has 6 "clutch pockets" to make it easy for dogs to pick it up.
Also from Chewy.com, there are dozens of various KONG toys. These toys can be stuffed with treats to keep the dog's interest for extended periods of time.
Visit a Dog Friendly Restaurant, Hotel, or Indoor Dog Park
Activity Level: Low-High
Although outside, many restaurants have dog friendly areas! Pick a day that's cool and clear, find a restaurant that serves a great cup of coffee, and spend the day with your dog.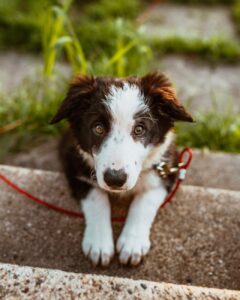 It's not always easy to find dog-friendly restaurants, parks, or hotels. Bring Fido is a resource that makes it easy!
Simply select what kind of activity you're interested in, type your destination in the search bar, and you'll quickly find a long list of dog friendly activities!
Though many of these activities will tend to be outside, there are some wonderful indoor options for cold weather seasons!
---
Just because the weather is cold, doesn't mean your dog needs to be stuck inside!
What other ideas do you have for cold weather activities? SHARE them down below!