Getting a new puppy is an exciting event in anyone's life! But along with the puppy breath, high energy, and an adorable face comes necessary behavior training. Everyone's individual experience with potty training can vary greatly depending on the puppy. Some puppies are eager to please, while others are more stubborn. And with so many products and opinions about potty training, it can get a bit overwhelming. Read on to find the Top 10 Highest Rated Puppy Potty Training Products on Amazon!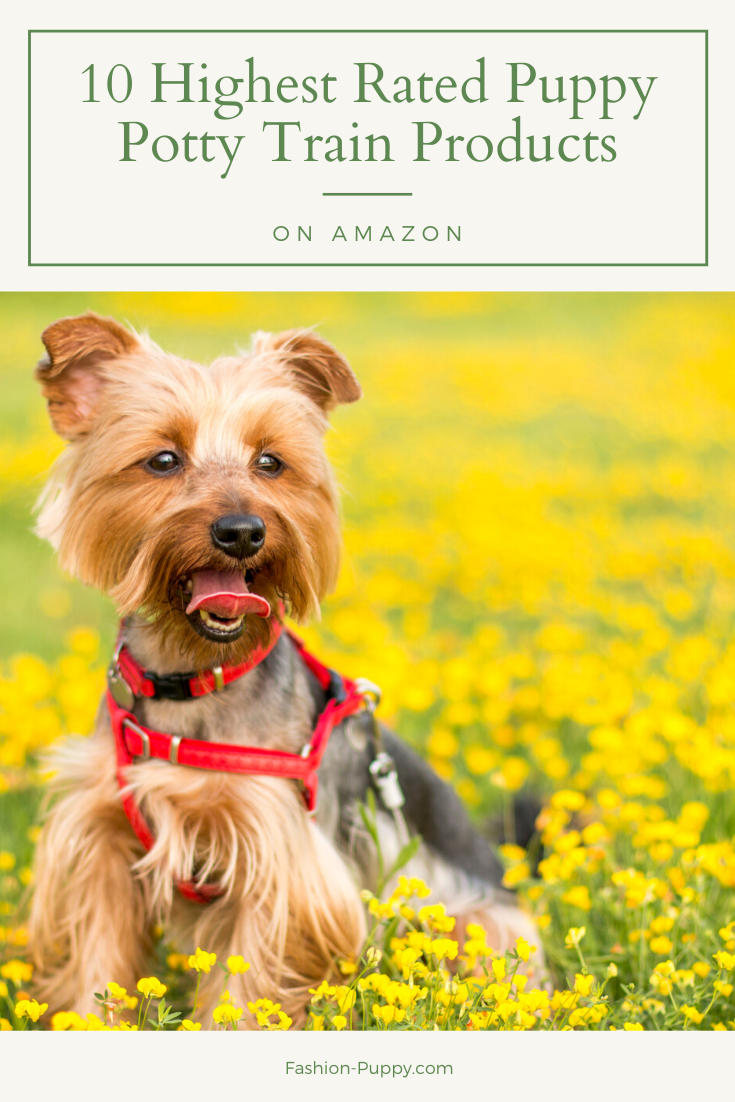 1. Dog Doorbells
Dog doorbells are among the best loved products for potty training! Instead of scratching at the door or barking to be let out, they ring the bells. Simply hang them from the doorknob and teach your pup to ring them whenever they need to go outside.
For more in depth information on doorbell training, click here: Bell Training for Dogs: It Really Works. Here's How
2. Potty Pads
Potty pads are especially useful for owners who need to work outside the home a lot. These pads help contain messes in kennels and you can train your pup to go to the pads when they need to go.
The Amazon listing for this product has some useful tips for using these potty pads…
Help familiarize your puppy with the pad by placing him on the pad several times during the day. When the puppy successfully goes potty on the pad, immediately reward with verbal praise and a special treat, then replace the used pad with a fresh one. If your puppy eliminates elsewhere, gently place him back on the pad as encouragement, always using positive (never negative) reinforcement. For best results, confine your puppy to a smaller space to start, like a kitchen or bathroom.
AmazonBasics Pet-Training Pads Manufacturer
3. Grain-Free Training Treats
Easily digestible and yummy flavors, these training treats from Wellness offer the very best for your puppy! They're small, soft, and are formulated to give your puppy the nutrition they need.
4. BarkBox Potty Training Kit
This BarkBox training kit is perfect for the pups that need to be left alone for long stretches of time! The box comes with a training guide and 70 pads with pheromone attractant, non-slip sticky tabs, and they're made with activated charcoal to reduce odor.
5. Kennel/Exercise Pen
Crate training is beneficial for most dogs simply so they have their own space to spend time alone. If there are times that you can't give your puppy full attention, investing in a dog kennel and/or exercise pen can help with accident control.
6. Dog Training Set
This set is an affordable, all-in-one option. Not everything in this training set is exclusively for potty training, but the four products contained in this kit can be used for general behavior training.
This kit contains: – Clicker to reinforce good behavior – Treat Training Pouch with poop bag dispenser, great for taking on walks! – Dog Doorbells – Silent Ultrasonic Whistle for command training
7. Stain & Oder Removing Spray
Having a clean up kit close by is a must when there's a new puppy in the house! Arguably the most important part of your accident clean up kit will include an all-in-one spray to get rid of bacteria, stains, and smells.
Instead of buying multiple products to accomplish a deep clean, this Odor Eliminator and Stain Remover spray takes on every part of the cleaning process!
8. Reusable Potty Pads
If you have more than one puppy, plan to have more in the future, or want an eco-friendly alternative to disposable potty pads, these reusable potty pads may be what you're looking for! These pads are versatile and can be used as mattress protectors or non-slip kennel mats for senior dogs.
9. Artificial Grass
Using artificial grass for potty training isn't always necessary, but can serve a purpose in unique situations. Puppies born in the winter months may be motivated to use indoor turf to avoid cold paws. Rescue dogs could also benefit from using artificial grass. Dogs who have been neglected or abused can be scared to go outside which makes potty training difficult. This offers a gentle transition to eliminating outdoors.
10. Easy Clean Training "Toilet"
For puppies who find the temptation of chewing up potty pads too enticing, the puppy "toilet" can help! Place your potty pad of choice under the mesh tray and snap the tray back in place. This product also goes a long way to keep messes contained more efficiently than by using potty pads alone.
---
What's your go to potty training product? SHARE with us down below!
Did you like this post? Check out more from Fashion-Puppy.com HERE! Walking the Dog | Harness vs Leash